Wild Amsterdam is a wildlife feature film with a difference — it explores one of Europe's most vibrant and dynamic cities through the eyes of its wilder inhabitants.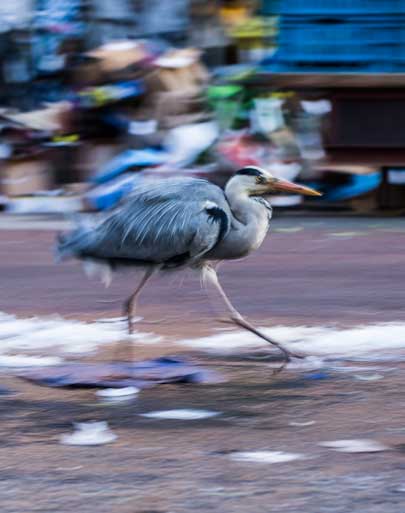 A city is not just for people. In fact to a host of wildlife, the streets, canals and buildings of brick, glass and steel make a home as rich and attractive as a pristine wilderness. And Amsterdam, with its reputation for nurturing its green spaces makes a perfect stage for exploring the deep and often humorous bond between people and animals. A grey heron grabbing a meal at a market fish stall, or a brown rat raising its young in a burrow under a pavement slab is as wild and extraordinary as the hawksbill turtle or giant panda.
Narrated by a wily old tomcat called Frits, Wild Amsterdam provides a unique and upbeat exploration of the city's wilder side, setting its world famed historic canal ring and harbour areas in a new light — as a diverse natural habitat, supporting a wide range of animals, birds and fish. On his daily wanderings through the city, Frits makes an ideal offbeat city guide, being as much at home in the world of people as that of animals.
Since its earliest beginnings, Amsterdam has been a magnet for traders and people fleeing persecution, drawn by a centuries old tradition for progressive and tolerant thinking. This cultural diversity is also reflected in the city's wildlife, which includes not only natives like the grey heron, the fox and peregrine falcon but a horde of exotic new arrivals, such as parakeets, freshwater crayfish and of course the brown rat.
Through Frits' eyes we see Amsterdam in all its many moods — from rare quiet moments at dawn, through the bustle of midday to the more hipper tones the city takes on at nightfall. His escapades introduce us to the lesser known worlds of it's wildlife and the challenges they face. Just like the human city dwellers, they go out each day in search of a meal, a mate and a home safe and sound enough in which to raise their young.
From the makers of the publicly acclaimed 'New Wilderness' (Golden Calf 2013) and 'Holland, The Living Delta' (Golden Film 2015), Wild Amsterdam explores the city and its wilder side from a fresh and engaging perspective.
 .