On June 2, 2014 "THE NEW WILDERNESS" won the "Rembrandts", the Dutch Oscars. This is the first time ever that a feature documentary has been awarded the title of "Best Dutch Movie of the Year". In september the film won the "Gouden Kalf" award of best film voted by the Dutch audience.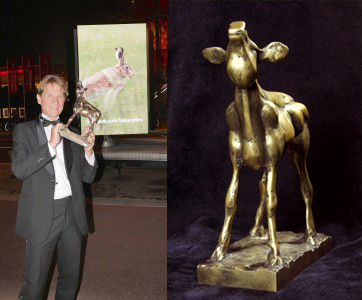 Director Mark Verkerk with the 'Gouden Kalf' for The New Wilderness and a billboard of
the new film Holland – The Living Delta which was released in september 2015
You can order the film on DVD with English subtitles (all regions)  on the EMS FILMS website. The German version is available at bol.de
THE NEW WILDERNESS
At the heart of one of the most densely populated areas of Europe, in a country where every square meter of land has been meticulously shaped by man, lie the Oostvaardersplassen – a unique experiment in letting nature run its course. In just 40 years, 6,000 hectares of newly formed polder has been transformed into one of Europe's most dynamic and productive wetlands – home to some of Europe's rarest birds such as the magnificent white tailed eagle, which hadn't been seen in the Netherlands since the Middle Ages.
Three years in production and with more than 600 shooting days in the field, The New Wilderness is a spectacle, an ode, a visual tone poem, celebrating the wildness, stark beauty and sheer majesty of a unique natural monument. Shot in 4K cinemascope, the film charts the cycle of life through the course of four seasons, from birth through death to new life, forging a direct sensory and emotional connection with this thriving wetland and the many wild creatures that have made it their home – including 1,200 Koniks, that make up the largest herd of wild horses in Europe.
THE NEW WILDERNESS – KEY FACTS
The 97 minutes film had 700.000 admissions within 12 weeks
The biggest Dutch Theatrical release in 2013
Only 4 and 5 star reviews
Next to the feature available for licensing:
1. A three-part 1 hour TV series
2. Making-Of/behind the scens of 65 minutes
3. A documentary film, 65 minutes, with the theme:
In Dialogue With Nature
4. Educational project about wilderness in The Netherlands based on 80 clips of 90 seconds
5. A 12 part youth series for TV
(available in 2014, length 14 minutes per episode)
6. Large format photo book, kidsbook, games, puzzles, calender
7. Large format photo-exhibition/paintings
8. Soundtrack performed by the famous Dutch Metropole Orchestra
"The footage is astonishing – glorious natural history in close-up, framed with top production value tracking timelapses. I watched it from first frame to last without needing any music or commentary whatsoever. I also think that the approach will be intriguing – that this is about co-operation, not competition. How interesting and modern." 
– David Attenborough & Fergus Beeley –